Looking for a sugar daddy to pay your bills? How to get a sugar daddy to give you money? Actually, it's not so hard as you imagine. But firstly, you need to find a sugar daddy.
There is no doubt that sugar daddy websites provide the best way to connect sugar daddies and sugar babies, no matter you are looking for a sugar daddy IRL (in real life) or sugar daddy online only.
Today, we will tell you how to set up a sugardaddymeet account step by step. It only needs a few clicks.
Some preparations before registration
1. The strong mind to find a sugar daddy;
2. Spare time;
3. If you want to use the APP, download it first;
4. Some photos you want to post;
How to set up a sugardaddymeet account?
1. Visit SugarDaddyMeet.com or download SugarDaddyMeet App
SugarDaddyMeet.com is mobile-friendly. You can visit the site from a PC or mobile end.
You can also download its APP (IOS or Android) to register.
Don't worry. The profile you created is available via all the platforms.
2. Click "SIGN UP" or "SIGN IN WITH FACEBOOK"
No matter which platform you are using, please click "SIGN UP" to continue.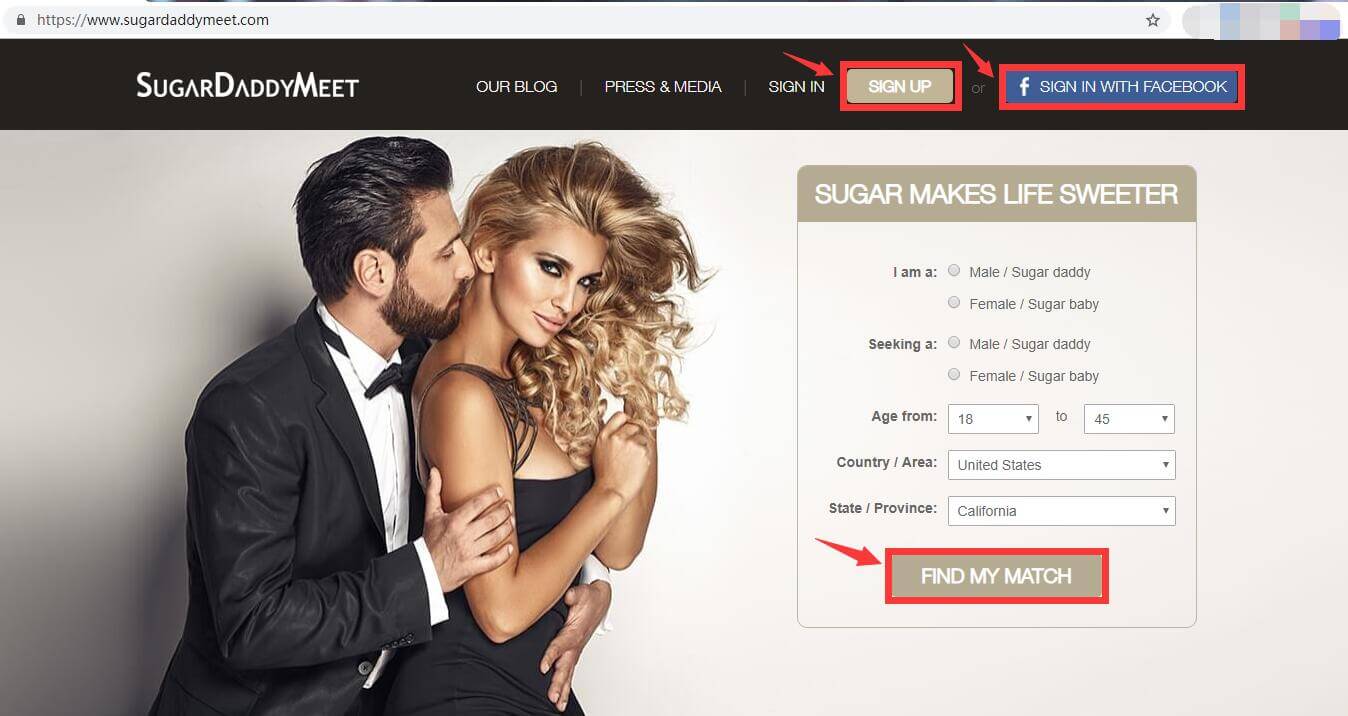 3. Agree 5 site guidelines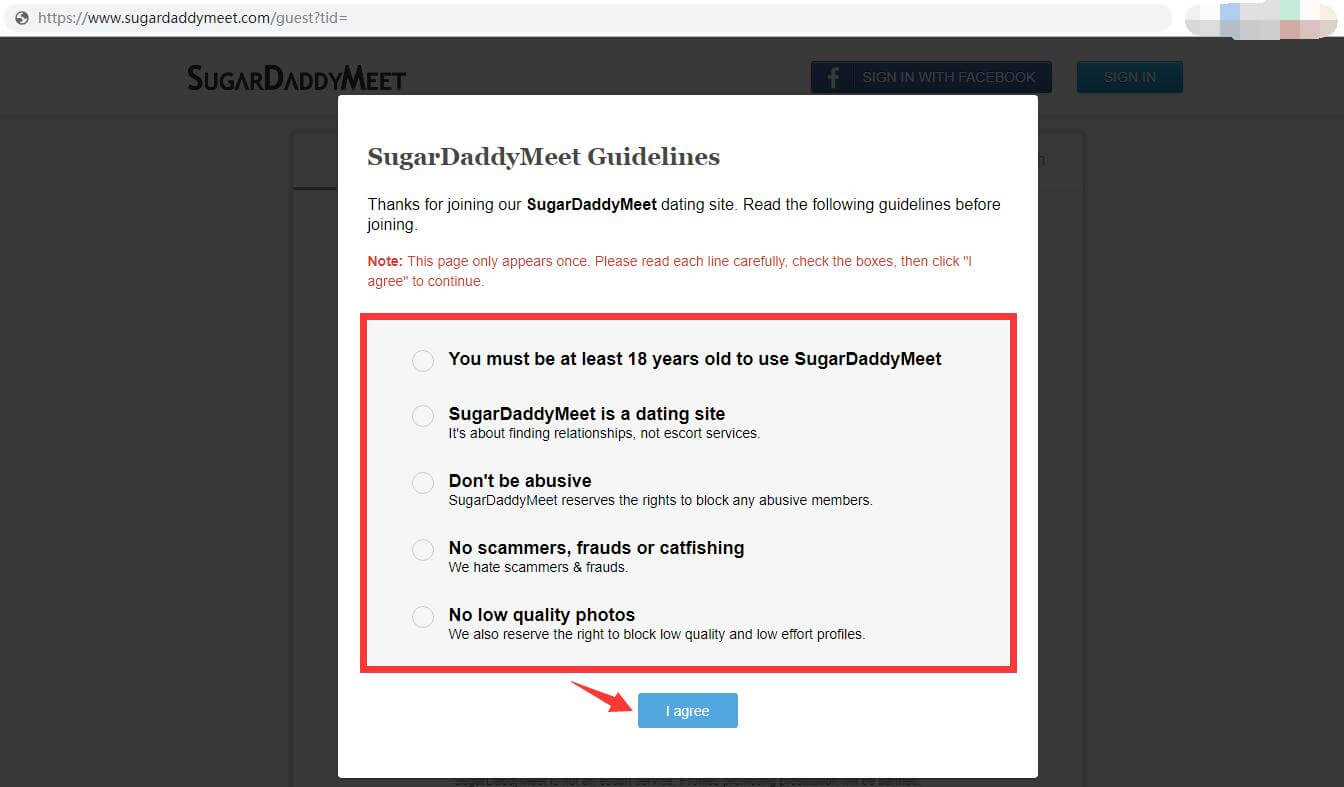 4. Fill in the required items
On the section, some basic information is needed, for example, valid email address, gender, looking for, and age.
PS: SugarDaddyMeet.com only allows male sugar daddy and female sugar baby.
Then agree to the Service Agreement and the Privacy Policy, and click Continue.
Next, you will need to write First name, Username, and Password. We suggest you not use the real name as your first name or username to protect your privacy on the net.
As for the password, try to mix it with letters, numbers and other symbols.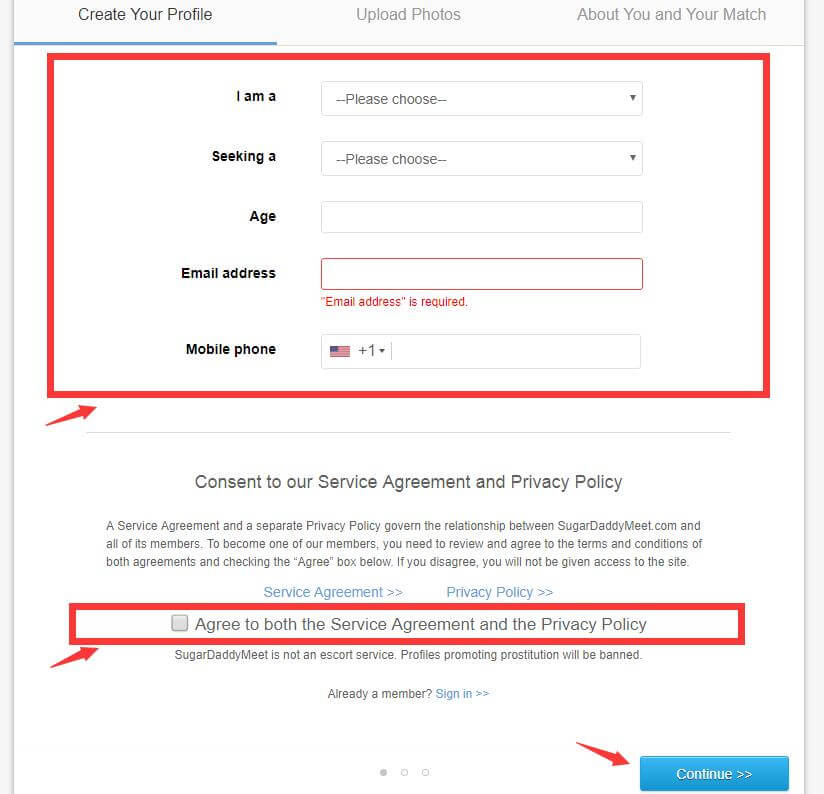 5.Upload your photos
A picture is worth a thousand words. If you want to increase the chance of finding a sugar daddy, photos are essential.
Actually, you can prepare some photos for online dating before registration. Then for the step, you can upload them easily.
If you are shy and don't want to post it to all the members, you can post your face photos to a private album.
But frankly, it will decrease the success chance.
6. Write something about " Profile Headline", "About Me", "About My Match"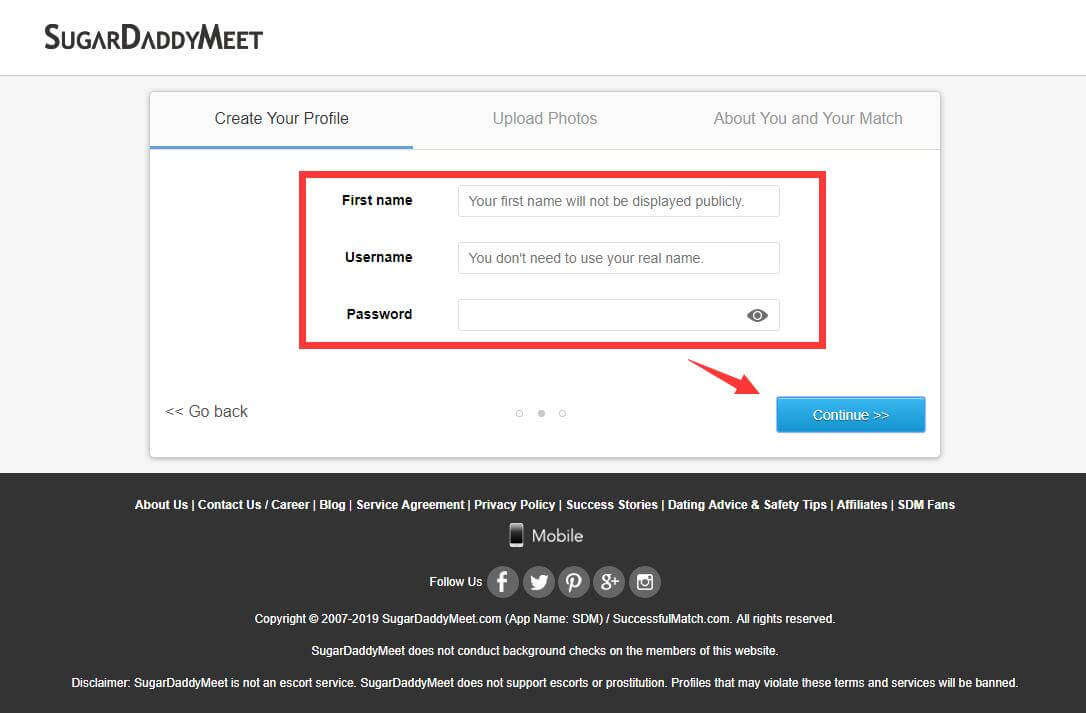 7. Email Verification
A verification email will be sent to your registered email address. Click the link in the email or copy and paste the link to the browser to verify it.
Please always check the sender email address. It should be "Support@SugarDaddyMeet.com".
8.Photo Verification
At last, if you'd like to make your profile more real and attractive, you can verify the photo by sending a copy of ID cards, or a photo that yourself holding a paper of the site name, username, and the day time.
This is a complete registration procedure. You can finish it in a few minutes. If you have questions about these steps, contact us.